Hey guys, just wanted to share an interview with Morgan Dillon (Zshred owner) last feb, 24, 2011 at Converse website. This is to inspire everyone, players and contributors and also share a bit of Zshred History....
Dillon Morgan
The Entrepreneur
[img]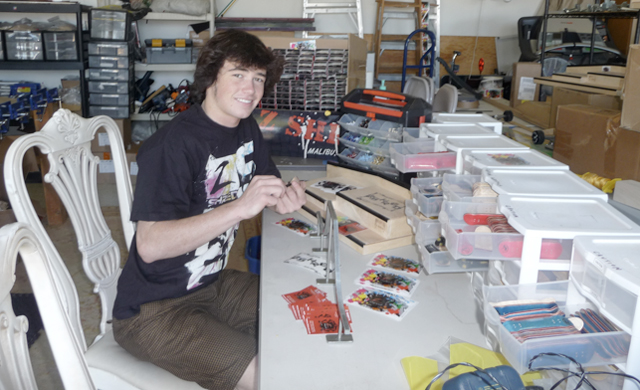 [/img]
February 24, 2011
Dillon Morgan saw a gap. When his sister purchased an expensive wooden fingerboard from abroad, and the only alternative in the US was a cheap plastic version, he decided to fill the gap himself. Two years later Z shred was born and from it a host of sites that cater to young action spots fans. And oh yeah, he's 18. We caught up with Dillon to talk skating, hating, and life as an internet entrepreneur.
Dillon, where did you grow up? Have you always been a skater?
I grew up in Southern California, living in Malibu and Westlake Village. I used to skate when I was younger, but now I just surf. I still skate my longboard once in awhile.
How did the interest in skating develop into fingerboarding? I know there is a massive industry for it in Europe.
Well, Z shred Fingerboards actually started from my sister. She purchased a very expensive wood fingerboard in Europe and I was shocked by the price. After doing some research, I found out there was no major U.S. fingerboard manufacturer and I wanted to be the first. Personally, I do not know how to fingerboard, but I took my knowledge and experience from skateboarding/surfing and incorporated it into fingerboarding (which turned out to be very successful).
Fingerboarding is very popular in Europe and is spreading rapidly throughout the United States and other countries.
When did you realize that you wanted to convert your interest into a business? That's a heady decision to make as a 16 Year old.
Actually, it may have seemed like a huge risk to take, but I never felt nervous. I have always had a passion for business. My philosophy is this: since I was 16 years old at the time, I had nothing to lose…you might as well take all the risk while you're young.
What makes your fingerboards different then the competitors? Why wood vs plastic?
The main advantage is that they are hand made wooden boards. Each deck has five unique veneer woods that are glued, molded, machine-shaped, drilled, lacquered, and ready to ship off to an eager customer. I also offer ramps, rails, a variety of wheels and wheel colors, and other accessories. Secondly, Z shred is innovative in three major ways: we were the first to offer colored trucks, we are the only company that includes a custom-carrying box with each order, and the complimentary website called the Online Fingerboard Contests. Above all, Z shred prides itself on extraordinary customer service; I cannot express in words the importance of customer service…We are recognized as having the best customer service in the industry.
How have the online competition sites developed in conjunction with Z shred?
The Online Contest sites (The Online Fingerboard Contests.com and The Online Skateboard Contests.com) have really done a superb job enhancing Z shred's branding and name recognition. The Online Contests sites are created to appeal to a specific hobby or sport where the viewers can blog, check up on the latest news, and chat with their friends. The main idea that drives the sites is that members can freely upload their video of themselves doing that specific hobby or sport with a chance to win prizes based on viewer's votes and views. Users choose the winners by viewing and voting on the videos that they like. These sites are user-generated, meaning the users run the show.
Get any hate from traditional skaters?
Not really, because most fingerboarders also skate. When it's raining or there's bad weather, you can be inside and practice everything you would do on a normal skateboard. It may seem easy, but to do any trick with a fingerboard is takes skill. It is much harder than it looks.
What does the future hold for Z shred?
Z shred has recently partnered up with Pura Vida Bracelets and they are helping Z shred become more heavily involved in retail stores. Right now, we have distributors in China, the
Philippines
and Mexico, and are working on others. We will also continue to grow our fan base on facebook, youtube, twitter, etc. Our goal is to make inroads into the major surf/skate retail chains.
What does the future hold for The Online Contests?
The Online Contests are growing very quickly and sooner or later; there will be an Online Contest for virtually any hobby or sport imaginable…so keep posted!
source:
http://play.converse.com/?p=7481
Thank you for reading.... more power fingerboarders.....